Pressure Cleaning North Shore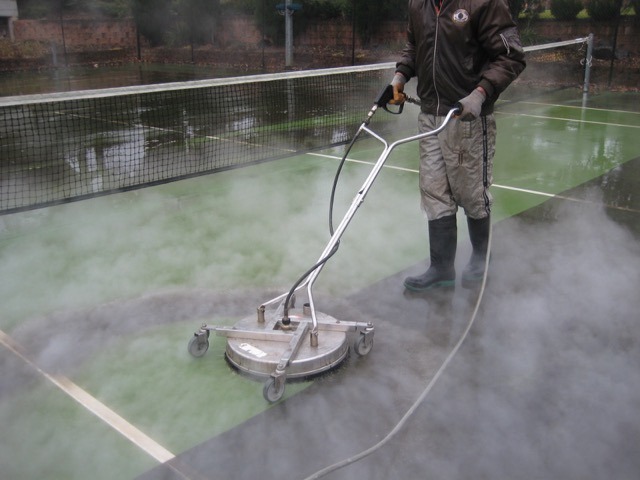 Rhino pressure cleaning, have been pressure cleaning north shore area for years.  High Pressure cleaning north shore area is always rewarding, as it is a very leafy area and moss and mold grows like crazy. We use high pressure steam for cleaning of all hard surfaces in the north shore. The high pressure steam really cleans the surfaces up beautifully and the best thing is that there is no need for harsh chemicals such as acids and bleach, which are essential if you are cleaning with cold water pressure cleaners. Hot water pressure cleaning is great for the removal of oil stains as the heat vaporizes and breaks down the oil. It also dissolves mold a lot faster and effectively than cold water. We use variable pressures of up to 5000 psi for all hard surfaces. Some surfaces are sensitive and only require lower pressures so having variable nozzles is very important.
Our high pressure steam system is delivered through our 20 inch rotary floor cleaners. The water flow and pressure drives the swivel which is attached to the high pressure cleaning nozzles. The extremely fast speed of the nozzles ensures that we always get a completely thorough and even finish. There are no zebra lines which you would usually see from a surface which has been cleaned with a normal high pressure gun.
Pressure washing north shore homes is very satisfying, our customers just cant believe their eyes when the see that their tired old surfaces are restored to a brand new looking condition. When the cleaning process is complete, we give our clients the option of having our anti fungal solution applied to their hard surfaces. The anti fungal solution works by killing the spores deep inside the surface. This will prolong the period of time that the surface will stay clean. The product can also be applied to the surface instead of pressure cleaning. We often use this method for sensitive surfaces where we feel that to much high pressure water cleaning may damage the surface.
Surfaces we clean for our North Shore clients include – Driveways, Paths, Pool Surrounds, Retaining Walls, Pergolas, verandas, decorated concrete, bricks, pavers, natural stone. We also offer a softwash house washing service for delicate house surfaces and complete roof roof restorations from cleaning to re-pointing, re-bedding, painting and replacing valley irons. Our Anti fungal solution is also very effective on roof tiles.